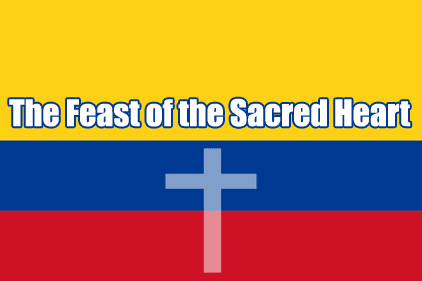 Sacred Heart is a Colombian holiday  that always falls on a Monday as it is celebrated ten weeks and a day after Easter Sunday.  The full name of the holiday is "The Feast of the Sacred Heart of Jesus". In Spanish, it is called as 'El Sagrado Corazón de Jesús'.
It falls 19 days after Pentecos. The earliest possible date is 29 May, as in 1818 and 2285. The latest possible date is 2 July, as in 1943 and 2038. The devotion to the Sacred Heart is one of the most widely practiced and well-known Roman Catholic devotions, taking Jesus Christ's physical heart as the representation of his divine love for humanity.
Like other holidays in Colombia that are based on a Catholic event, the holiday is celebrated on the Monday after the actual date.
Devotion to the Sacred Heart of Jesus can be clearly traced back at least to the eleventh century. It marked the spirituality of Saint Bernard of Clairvaux in the twelfth century and of Saint Bonaventure and St. Gertrude the Great in the thirteenth. The beginnings of a devotion toward the love of God as symbolized by the heart of Jesus are found even in the fathers of the Church, including Origen, Saint Ambrose, Saint Jerome, Saint Augustine of Hippo, Saint Hippolytus of Rome, Saint Irenaeus, Saint Justin Martyr and Saint Cyprian, who used in this regard John 7:37-39 and John 19:33-37.
In 1902, Colombia was officially consecrated to the Sacred Heart of Jesus and this remained in the constitution until 1991.